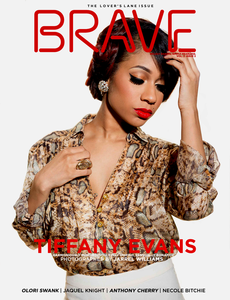 $

5.99 - On Sale
BRAVE Magazine (Issue #6)
Cover: Tiffany Evans
Title: The Lover's Lane Issue
$5.99
BRAVE Magazine: Digital is the only sourced digital blueprint that revolutionizes the new cultured generation. It focuses on the bourgeoisie lifestyle, fashion, celebrities, and entertainment. Promoting upscale-awareness, it propels provocative style, luxury, and social advancement; While executing smart journalism, edgy aesthetic, communicative service, and knowledge to subscribers and affiliates wanting to enhance and embody a new daring ideal.
(After Purchase, A PayPal Confirmation Will Be Exclusively Delivered To Your E-mail!)
NOTE: Please use your correct e-mail address, or your order will not be recognized. After your purchase has been approved, please allow 15 min. for your order to be processed. If this is a pre-order before the release date, please allow 24 - 48 hours after the release date for the issue to be delivered exclusively with a receipt to your registered e-mail.
Having Technical Issues?
Want It In Print?
E-mail: ryanbrave@finallybrave.com
© finallybrave.com 2011-2013. All Rights Reserved.
Contact: ryanbrave@finallybrave.com for more details.